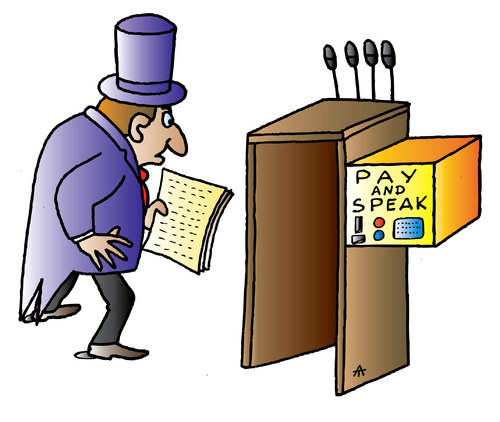 There has been this newish trend of companies / organizations offering speakers the opportunity to present at their events for a fee… meaning the speaker actually pays to speak at the event, and not the other way around.
Many of my consulting clients ask me for my thoughts on this. Here is what I have to say.
Please speakers, boycott these "opportunities!" Speakers are supposed to be compensated for their expertise. Even when a speaker does speak pro-bono, they are typically permitted to sell their products / services so they are in essence being paid for that engagement.
Think of it in two ways:
Return on investment. Think of how much business you'd have to secure in order to make that engagement worth it. Too much.
You are going to pay someone else so that you can share your expertise? Huh?
There are so many speaking opportunities out there. There is no reason to pay to speak even when it is marketed as a sponsorship opportunity. It is ok to accept sponsorship in exchange for speaking for free … but again not when you have to pay for it!
Just my opinion from my many years of experience.
Please feel free to ask me more about this if you have questions.
Jennifer Ellis has been managing speakers, authors, and other inspiring celebrities since 2001. She loves sharing her expertise … but not for free. 🙂 Connect with her for a consultation HERE.